General information about IELTS Writing Task 2
General information about IELTS Writing Task 2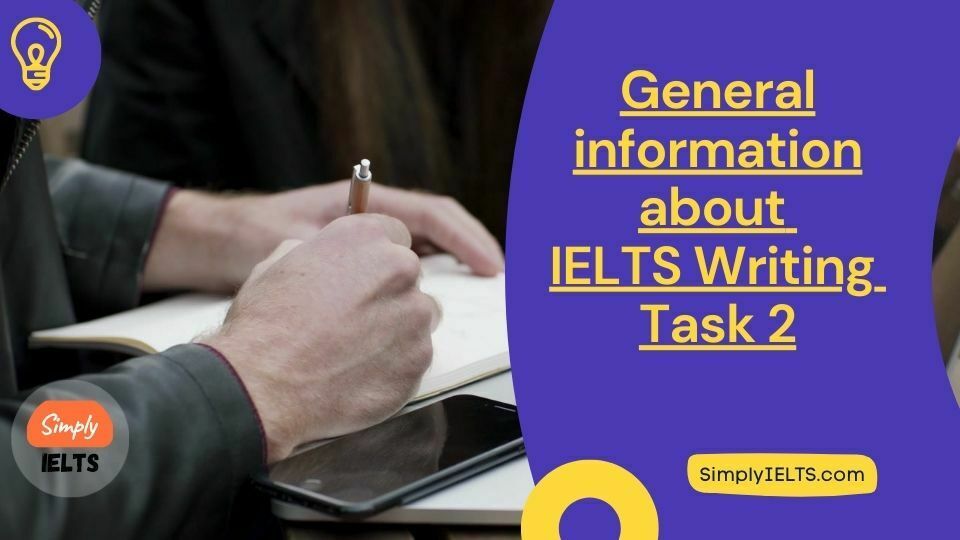 In the first lesson of IELTS Writing Task 2 Course, you will find all General information about IELTS Writing Task 2 you need to know.
Writing an essay involves expressing your opinion on a particular topic, supported by evidence and examples. The recommended time for completing the work is 40 minutes, and the volume is 250 words.
The examples in this article are taken from the IELTS Writing Task 2 and The Complete Solution IELTS Writing textbooks.
Essay structure:
1. Introduction – 2-3 sentences
The introduction should be short, simple and contain:
a sentence that names a topic
a sentence that answers a question or expresses a general impression
Intro Sample
The introduction of your essay is a paraphrased topic of the assignment. Next, you must give a generalized short answer to the question from the assignment.
Consider the options for replacing words and expressions:
→ have had an influence
the way affected people interact with each other → communication between people
development → effects
Basic rules for writing an introduction:
always rephrase the task
answer the question of the task, clearly expressing your position
do not explain your opinion
2. Paragraphs (2 or 3) – 5-6 sentences each
In this part of the work, the candidate needs to express his point of view, prove it with arguments and give examples. The text should be divided into paragraphs according to the principles 1 paragraph – 1 thought. The number of paragraphs in the work will depend on the type of IELTS essay, which we will talk about later.
Topic sentence is the first sentence of your paragraph, which generally characterizes your thought. After it, you should move on to the details and evidence of your point of view.
Paragraph structure:
Topic sentence
Paragraph 1 – Benefits
Paragraph 2 – disadvantages
Paragraph Sample
The first sentence is a topic sentence. It is generalized, does not report anything specific, and at the same time makes it clear what the paragraph will be about. The author chose three areas for description, this is clear from the linking words – firstly, secondly, finally. He not only argues his point of view, but also gives real examples from life – for example.
In the second paragraph, the author analyzes the positive and negative impact of technology with the help of introductory constructions on the one hand and on the other hand. He describes a positive influence with the help of a contrasting comparison of the past and the present, which is supported by the word nowadays. The negative influence is revealed with the help of an example.
3. Conclusion – 2-3 sentences
The main rule of writing a conclusion in a paper is not to introduce new information. You need to either paraphrase what has already been said in the introduction, or summarize the information in paragraphs.
Conclusion sample
The candidate begins the conclusion with an introductory construction in conclusion and speaks in general about the consequences of the impact of technologies.