IELTS score meaning with IELTS score chart
In this lesson from SimplyIELTS website, you will know the different IELTS score meaning, how to calculate your score, and a brief about IELTS score chart and a comparison between your score in IELTS and your English level
IELTS score meaning with IELTS score chart
IELTS results are graded from 0 to 9 points. The points are called Bands. You get a score for each skill and Overall Band is the total score for the exam. You can get full or half points: 6.0, 7.0, 6.5, 7.5
Every educational institutions and employers set their own IELTS passing score.
As a rule, 6 points (competent user) – for admission to universities for undergraduate programs; 7 points (good user) – work in Australia, study at the law, medical faculties of universities.
In order to successfully pass the IELTS (more than 6 points), you need an average level of English language proficiency, Intermediate.
How is the overall IELTS score (Overall Band Score) calculated?
If you received:
Listening: 6.5
Reading: 6.5
Writing: 5.0
Speaking: 7.0
then the total score will be 6.5 ( 25 ÷ 4 = 6.25 = score 6.5)
Listening: 6.5
Reading: 6.5
Writing: 5.5
Speaking: 6.0
then the total score is 6.0 (24.5 ÷ 4 = 6.125 = 6.0 score).
The number .25 is rounded to the nearest half point (.5).
The number .75 is rounded to the nearest full point (.0).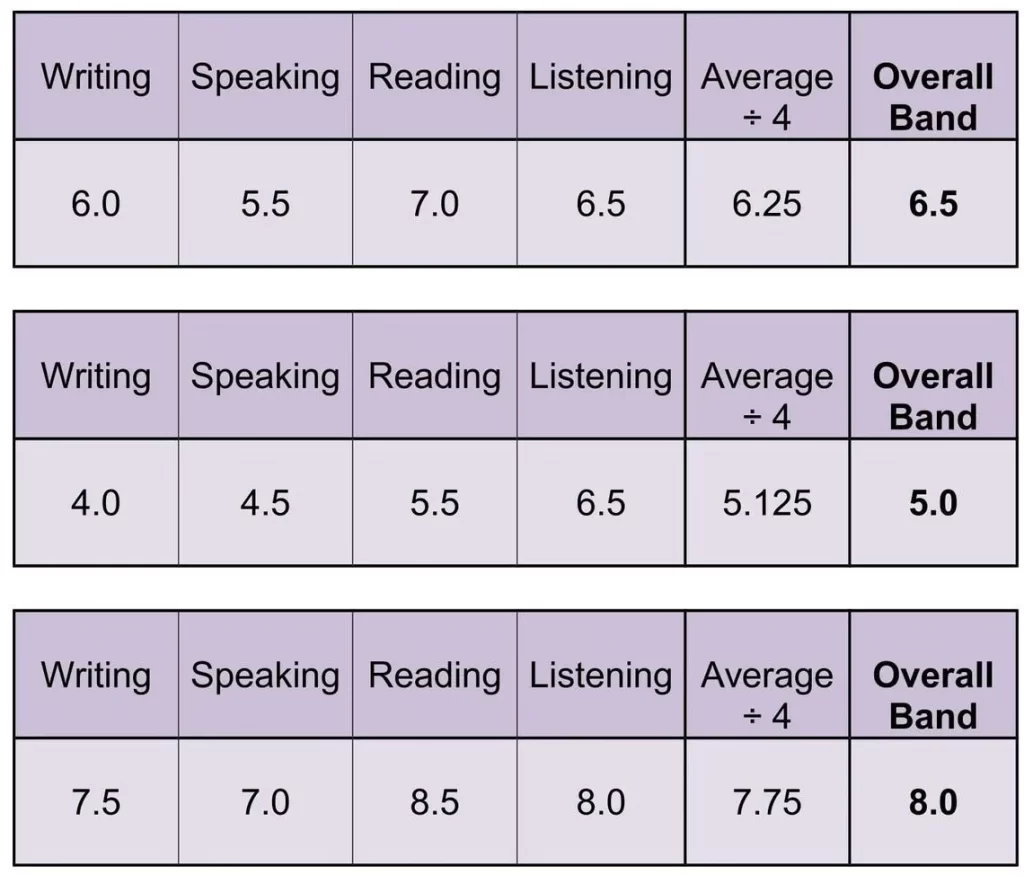 Have you done Listening or Reading, counted the number of correct answers and want to know your IELTS score?
How IELTS Listening and Reading is assessed
In IELTS assessment criteria for Listening and Reading, everything is simple – the score depends on the number of correct answers.
IELTS score meaning in Listening part
| Band score | Correct answers out of 40 |
| --- | --- |
| 5 | 16 |
| 6 | 23 |
| 7 | 30 |
| 8 | 35 |
IELTS score meaning Reading Academic
| Band score | Correct answers out of 40 |
| --- | --- |
| 5 | 16 |
| 6 | 23 |
| 7 | 30 |
| 8 | 35 |
IELTS score meaning in Reading General training
| Band score | Correct answers out of 40 |
| --- | --- |
| 4 | 15 |
| 5 | 23 |
| 6 | 30 |
| 7 | 34 |
| 8 | 38 |
Listening and Reading scores
Each test is different: one is easier, the other is more difficult, so the number of correct answers required per score, for example, 7.0, is NOT exactly known. Points are determined by the computer where your answers are entered. So in the tables, the approximate number of correct answers for the desired scores.
So, only 9 points:
Band 0 – You did not come to the exam
Band 9 – You are an expert in the language and you cannot be distinguished from an educated native speaker.
Evaluation scale and interpretation of IELTS score chart 2022
9.0 The user is an expert Has
a perfect command of the language. Demonstrates absolute understanding in any situation.
8.0 Very good user
Fully fluent in the language, except for some inaccuracies. In some uncharacteristic situations, it may show misunderstanding. Able to explain his position in detail.
7.0 Good user
Good command of the language despite some inaccuracies and misunderstandings. In general, demonstrates a good command of the language and a clear detailed understanding.
6.0 Competent user
Generally good command of the language despite possible inaccuracies, inconsistencies and misunderstandings. Can use and understand fairly complex language, especially in familiar situations.
5.0 Intermediate User
Has limited command of the language, generally showing understanding of most situations, although making many mistakes. Capable of basic communication.
4.0 Limited user
Basic knowledge of the language is limited to standard situations. Often has problems with complex language constructs.
3.0 Extremely Limited User
Demonstrates only a rough understanding of very common situations.
2.0 Intermittent user
In reality, communication is impossible, except for the most standard situations using single words and short formulations.
1.0 Non-language user
The candidate may only use single words.
0 Didn't try to take the test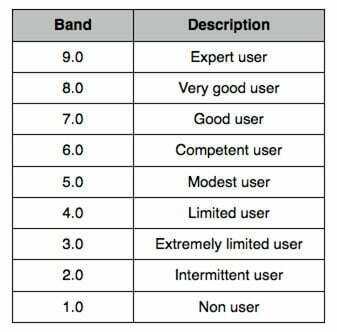 IELTS scores – table of correspondence to the level of English?
Comparison table of scores for IELTS, TOEFL and other most popular English exams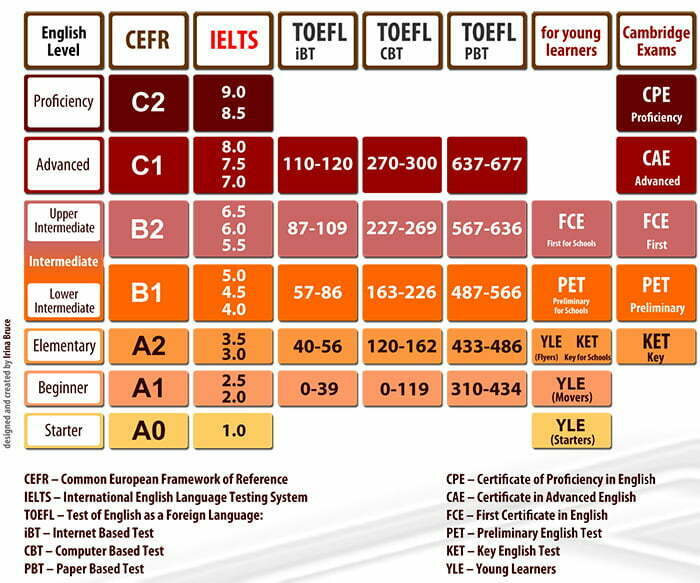 CEFR English Proficiency Levels
A Basic proficiency
A1 Survival level
A2 Preliminary level

B Self-sufficient proficiency
B1 Threshold level
B2 Advanced threshold level

C
Proficiency C1 Proficiency level
C2 Proficiency level
A1
I can understand and use familiar phrases and expressions necessary to perform specific tasks. I can introduce myself and introduce others, ask questions and answer questions about my place of residence, acquaintances, property. Can engage in simple conversation if the other person speaks slowly and clearly and is willing to help.
A2
Can understand single sentences and common expressions related to major areas of life (for example, basic information about myself and family members, shopping, getting a job, etc.). Can perform tasks related to the simple exchange of information on familiar or everyday topics. In simple terms, I can talk about myself, my family and friends, describe the main aspects of everyday life.
B1
Can understand the main ideas of clear messages delivered in standard language on a variety of topics typically encountered at work, school, leisure, etc. Can communicate in most situations that may arise during a stay in the country of the target language. I can compose a coherent message on topics that are known or of particular interest to me. I can describe impressions, events, hopes, aspirations, state and substantiate my opinion and plans for the future.
B2
I can understand the general content of complex texts on abstract and concrete topics, including highly specialized texts. I speak quickly and spontaneously enough to constantly communicate with native speakers without much difficulty for either party. I can write clear, detailed messages on a variety of topics and present my perspective on a major issue, showing the advantages and disadvantages of different opinions.
C1
I can understand large complex texts on various topics and recognize hidden meanings. I speak spontaneously at a fast pace, without difficulty in choosing words and expressions. I use language flexibly and effectively for communication in scientific and professional activities. Can produce accurate, detailed, well-structured messages on complex topics, demonstrating mastery of text organization patterns, means of communication, and aggregation of text elements.
C2
Can understand almost any spoken or written communication and can compose coherent text from multiple oral and written sources. I speak spontaneously with a high tempo and a high degree of precision, emphasizing shades of meaning even in the most difficult cases.
Source: https://en.wikipedia.org/wiki/Common_European_Framework_of_Reference_for_Languages